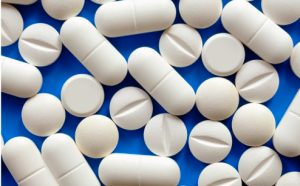 People with diabetes or other chronic conditions need to be extra careful about the coronavirus also known as COVID-19. There are mixed messages on aspirin, ibuprofin and the coronavirus. The French health minister has just announced that taking aspirin ibuprofen, or other NSAID fever reducers to fight the virus may increase the severity of the coronavirus infection. However there are some false rumors and miss-information on this topic that are also floating around on social media, as usual you need to check with your doctor on strategies especially if you are on a regular dose of these.

"Prof Parastou Donyai at the University of Reading says: 'There are many studies that suggest ibuprofen use during a respiratory infection can result in worsening of the disease or other complications.' This is a reminder that our body's natural defenses are an amazing tool to fight infections and viruses, and we need to maximize our body's healing potential to do its work. 
Our bodies are smart and have built in strategies and tools to help us fight infections and fight challenges. This latest information is showing that when you reduce the fever, you might feel better, but then you weaken your body's immune systems ability to actually fight the virus. What we want to do with the corona virus is maximize our body's ability to fight it. Because the body's immune system has not seen this before, it needs every opportunity to improve and fight viruses. This is why we recommend maximizing your body's immune defenses. 
Click here to read about other strategies to maximize your immune system, making sure you are on the best food and the best diet possible getting sleep and secondary strategies as we mentioned in this more detailed article. 
References and More Learning:
Dr. Campell – Detailed Video Explaining Fever and its Functional purpose
BBC News Article  Coronavirus and ibuprofen: Separating fact from fiction
Español
Las personas con diabetes u otra condición crónica necesitan ser extra cuidadosas con el coronavirus también conocido como COVID-19. Existen muchos mensajes contradictorios sobre aspirina, ibuprofeno y sobre el coronavirus. El Ministro de Salud de Francia ha anunciado que tomar aspirina o ibuprofeno, u otro reductor de fiebre NSAID para combatir el virus puede incrementar la seriedad de la infección de coronavirus. Pero es que existen falsos rumores y mucha mala información sobre este tema que anda circulando por los medios sociales, por lo que, como es usual necesitamos chequear con un médico sobre las estrategias especialmente si se está bajo dosis regulares o continuas de este medicamento debido a una condición previa particular que lo requiere. 
"El Profesor Parastou Donyai en la Universidad de Reading dice: 'Existen muchos estudios que sugieren que si se usa el ibuprofeno durante una infección respiratoria podría resultar en el empeoramiento de la enfermedad o creación de complicaciones.' Esto es un recordatorio de que las defensas naturales de nuestro cuerpo son una herramienta increíble hacia la lucha contra las  infecciones y virus, y que necesitamos maximizar nuestro potencial sanador para que haga su trabajo.
Nuestros cuerpos son inteligentes y tienen herramientas y estrategias internas diseñadas para combatir infecciones y superar retos. Esta última información publicada lo que demuestra es que cuando reducimos la fiebre, puede que nos sintamos mejor, pero estamos debilitando la habilidad de nuestros sistemas inmunológicos de combatir por sí solo el virus. Lo que queremos hacer con el coronavirus es maximizar la habilidad de nuestro cuerpo para que lucha contra dicho virus. Porque nuestros sistemas inmunes no han visto esto antes, requiere toda oportunidad que le permitamos para mejorar y lograr combatir el virus.  Por eso es que recomendamos maximizar las defensas de nuestro sistema inmune. 
Haz click aquí para leer sobre estrategias para maximizar tu sistema inmune, asegurando primeramente que tengas la mejor alimentación, la mejor dieta y  suficiente descanso; para seguir luego con las estrategias que detallaremos en el siguiente artículo.
Dr. Campell – Detailed Video Explaining Fever and its Functional purpose
BBC News Article  Coronavirus and ibuprofen: Separating fact from fiction
Traducción al Español por Tibaire Useche